Watch all the goals for Christian Benteke for Aston Villa FC
Christian Benteke AVFC

Will Christian Benteke remain at Aston Villa, or will he transfer to another club, all the rumours and news here at Aston Villa Rumours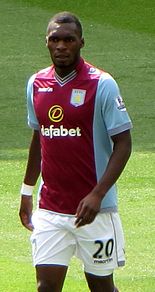 Christian Benteke has been a fantastic striker for Aston Villa, over the last few years his goals have helped ensure Aston Villa`s premiership survival. With this said he has started to attract the attention of a number of top clubs from the Premiership and abroad, with this said and the fact it has been reported that Benteke could be looking for a transfer to a club competing in the champions league we take a quick look at the possible clubs who could give him champions league football next year.

Chealsea - Reported to have shown an interest in Benteke, Chelsea do look like they have filled to gap left by Didier Drogba, signing Radamel Falcao on loan, although unimpressive at Manchester united, Falcao has a proven track record and Jose Mourinho is confident he can help this exceptional striker rediscover his form, but with this signing and the fact Chelsea already have Diego Costa, a starting place for Christian Benteke could be difficult.

Manchester United - Man United has not been strongly linked with Man United, but there have been enough newspaper articles that they can`t be ignored, although on paper they already have an impressive forward line, they did leave room for improvement and with an empty space left by Radamel Falcao, there may be room for Christian Benteke.

Arsenal - Another possible option for Christian Benteke this transfer window is Arsenal, with many football pundits believing Benteke would be an improvement over both Danny Welbeck & Olivier Giroud, enabling Arsenal to compete strongly for the Premeirship league title this coming season.

Liverpool - The most talked about team in relation to Christian Benteke is Liverpool, who have already been busy this transfer window, with the departure of Luis Suarez and injury of Daniel Sturridge, Liverpool struggled in front of goal, they have already purchased young striker from Burnley Danny Ings, but they are likely be in need of another striker, they have been linked with Carlos Bacca from Sevilla who would be a lower costing option, and the funds of buying Christian Benteke may well be linked to the departure of Raheem Sterling.

What are your thoughts on the Christian Benteke transfer saga, who would be a good replacement, please email us at astonvillarumours@gmail.com


Christian Benteke Biography
Christian Benteke was born Decmeber 3rd 1990 in Belgium, who was purchased by Aston Villa from KRC Genk in August 2012, Benteke debuted for the Belgium national football team in 2010 .

His family are originally from Zaire (now Congo ) and moved to and became Belgium nationas. He grew up in the district Droixhe in Liege . He played at the modest JS Pierreuse before the athletic attacker was noticed by Standard Liege . Earlier Genk and MVV had rejected him for their youth teams. Benteke moved to the Rouches and was up snatched at the age 16 by KRC Genk where he was given a second chance.

KRC Genk - A year later, in the 2007/08 season, Benteke made his official debut for Genk in the derby against STVV raids for Balázs Tóth . Genk lost the game 1-0, a day later the manager Broos was sacked. Ronny Van Geneugden took over the role as manager who was a former youth coach of Benteke and knew him well and started him in the game against RSC Anderlecht. The Congolese Belgian played the whole match, but saw his team lose again with the smallest difference. On April 19, he scored his first league goal for Genk.

A season later Benteke had fewer playing opportunities and decided to return to Standard Liege.

Standard Liege - Benteke returned to the club that trained him, but the club possessed by Milan Jovanovic , Dieumerci Mbokani , Gohi Bi Cyriac and Igor De Camargo so already have enough strikers. Still, he managed to play a handful of games and score a total of three times for Standard. At the end of the season, the Congolese Belgian took his first national title.

In order to further develop the club loaned him out twice. In the 2009/10 season he played for KV Kortrijk. In 2010/11 leased Standard him at KV Mechelen. Afterwards Benteke returned to Sclessin, but because he still could not count on many starts, he sought a move during the transfer period.

KV Kortrijk - In the summer of 2009 Standard loaned the 19-year-old striker out to KV Kortrijk . Under coach Georges Leekens he became a permanent fixture in the starting eleven. Benteke regularly got the chance to show himself off and rewarded the coach with a total of 9 league goals. After the season Standard Liege pulled the striker back to then, where again he barely played.

KV Mechelen -Benteke hoped to get a start at Standard, but was on the final day of the official transfer window was leased to KV Mechelen . Without his knowledge, the club used him as a bargaining chip for the transfer of Aloys Nong . Benteke afterwards voiced in the press how sorely disappointed in Standard.

KRC Genk - Despite two successful loan turns at Standard liege, Benteke could not play in the spotlight. He left in the summer of 2011, once again returning to former club Genk. This time he was a regular in pn the team shhet, Coach Mario Been showed a lot of confidence and let him regularly in the league. Benteke third top scorer of the season after Jérémy Perbet and team mate Jelle Vossen . With Genk if he could not play in the Champions League since he already two games with Standard had played in the qualifying rounds of the Champions League.

In the summer of 2012 showed the English Aston Villa are interested in Benteke. The big striker was keen to move to England, but Genk were keen to keep him. After long negotiations he moved to Aston Villa, he had at that time already 5 games played for Genk and scored three times. Aston Villa paid around 10 million euros for his transfer.

Aston Villa - On September 15, 2012 Benteke made his debut for Aston Villa, coming on as a substitute after 71 minutes against Swansea City replaced teammate Andreas Weimann. Not much later he scored his first goal for Aston Villa. It was 2-0 for the club from Birmingham. On February 2, 2013, he scored two goals against Everton . Also Marouane Fellaini scored two goals in that party. Finally it was 3-3. On April 29, 2013 he scored a hat-trick against Sunderland . He played 34 games that season ended in the Premier League and scored 19 goals. He also played five matches in the League Cup in which he scored four goals. He finished the season fourth in the premiership goal scoring list after striker Robin van Persie , Luis Suarez and Gareth Bale . Because of its strong first season he could count on interest include Tottenham Hotspur FC , Inter Milan , Atletico Madrid , Arsenal FC and Liverpool FC . On the opening day of the 2013/14 season he scored two goals at the Emirates Stadium against Arsenal . One week later, he scored the equalizer at Stamford Bridge against Chelsea .

Christian Benteke also active as international, he took part in 2007 in the World Cup in South Korea . On May 19, 2010 he made his official debut for the Red Devils . He was then national coach Georges Leekens replacement for Romelu Lukaku . Belgium won the friendly match 2-1 against Bulgaria . Leekens and Benteke knew each other from Kortrijk. The next two international matches, he also featured in.

On August 15 2012 he scored his first goal for the national team. Benteke opened the scoring in a friendly match against Netherlands . Belgium eventually won 4-2. On October 12, 2012 Benteke scored the opening goal in the 3-0 win World Cup qualifier against Serbia. A few days later, on October 16, 2012 in a packed King Baudouin Stadium in Brussels he scored the opening goal in the 2-0 World Cup qualifier win, this time against Scotland. In friendly matches, he took the easy path to goal. In May 2013 he scored in the 4-2 victory against the United States .

Christian Benteke appeared by his two goals and an assist to count during the World Cup qualifying campaign on a place in the World Cup squad Wilmots. But because of an injury to the Achilles tendon , which he suffered on April 3, 2014 during a training session of Aston Villa, he could not attend the 2014 World Cup in Brazil.

Christian Benteke Sponsorship Deals - In August 2013 he was appointed by sports brand Nike appointed to promote their new football Hyper Venom. Besides Benteke the campaign also featured Daniel Sturridge and Danny Welbeck .