Is the Aston Villa Takeover Dead?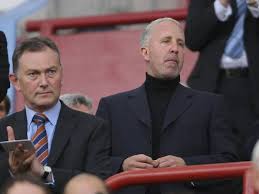 13/8/15
We havenít heard anything solid with regards the takeover of the club in the last few weeks, does this mean the deal is dead? We examine the evidence. We heard that a consortium had been given exclusivity but that the deal had fallen through and nothing since. Since the fallout of the takeover Villa chairman Randy Lerner has invested heavily in the playing squad with no fewer than 9 players have been signed up over the summer at a combined cost of around £50 Million, does this mean Lerner has decided to keep the club?
American Businessman Randy Lerner has made no secret of the fact he is willing to listen to offer for the club but has said throughout the process that the best interests of the club are at the forefront of his mind. So has this philosophy lead to Lernerís investment with the club having flirted so closely with relegation over the last few years or is there another reason? Aston Villa Rumours has heard that despite new to the contrary the takeover deal may not be dead after all and an announcement is imminent at the end of the month. Could this be Lerner has had another change of heart or could it be that a takeover agreement in principal is in place but for unknown reasons has been kept under wraps until the end of the current transfer window?
14/7/15
In news that is sure to disappoint many Villa fans manager Tim Sherwood has today revealed that the proposed takeover of Aston Villa has broken down irretrievably.
Aston Villa chairman Randy Lerner had been in discussion over a £150m deal after granting an unknown consortium exclusivity but the talks never transpired into a final agreement.
7/6/15
Reports today suggest that Randy Lerner`s sale of Aston Villa FC is closer than ever before with news that an unknown bidder has given exclusivity during negotiations.
Previous reports have suggested that a Chinese consortium were interested in buying the midlands outfit along with a consortium from Lerner`s homeland of The USA and another party involving former Arsenal Legend Tony Adams and former Chelsea executive Paul Smith.
But it is starting to look like one of them has managed to steal a march on the others and are looking to conclude a deal sooner rather than later. Lerner put the club up for sale at the end of last season and has been looking for a buyer since, he has stated that he is looking to sell with the best interests of the club in mind and reports of him selling his property near to Villa`s Bodymoor Heath training ground suggest he is close to achieving that aim.
15/5/15
More rumours have surfaced about the potential takeover of Premier league club Aston Villa with two new bidders set to compete with Paul Smith`s consortium for overall control of the club.
With most of the coverage of the takeover seemingly making the Smith/Adams consortium known as Halo favourites to buy the club this may come as a surprise to many following the saga.
The identities of the new interested parties are as yet to be released but one is believed to be from Lerner`s home nation of America whilst one is thought to be an Asian consortium.
Now the season is over and Villa`s Premier League safety is assured it looks certain that a sale for the club will be agreed before the start of next season.
American credit card magnate Randy Lerner acquired the club for a reported fee of £60 million back in 2006 and is thought to want £150 million from the sale. This would not constitute a profit for Lerner as he has invested much of his fortune into the club over the years.
Lernerís tenure has been cause of much debate among Villa fans over the years with the American investing heavily initially with Martin OíNeill at the helm. But he failed to maintain the same level of investment once O`Neill had left, whether this is because of the financial crisis and Lerner`s personal issues or because he knew that level of spending was unsustainable and still unlikely to be enough to break the monopoly of the big clubs at the time we may never know. Lerner also made one of the most puzzling managerial appointments of all time by employing a manager who had the previous season managed Villa`s great rivals Birmingham City to relegation from the Premier League.
7/5/15
As talk of a takeover of Premier League football club Aston Villa intensifies a consortium which is said to fronted by ex-Arsenal legend Tony Adams and involving ex-Chelsea and IMG executive Paul Smith is the latest group to be credited with an interest.
Current Aston Villa chairman Randy Lerner is said to value the club at £150 million and it is believed the former England defender and the former Chelsea supremo are willing to match the American`s valuation.
The experienced duo are part of a group called Halo and are said to be looking to buy Villa from Randy Lerner as well as acquire stakes in clubs in Belgium, Portugal and Italy.
Tony Adams had great success as a player but his non playing profile is not one to get Villa fans excited about his involvement, He had short managerial spells in England in charge of Wycombe Wanders where he was relegated and Portsmouth where he was sacked after just 16 games.
Villa will be hoping that Adams is not a potential replacement for Tim Sherwood who guided Villa to Premier League survival last term.
Paul Smith on the other hand has good experience handling club finances having been involved at ground level during Roman Abramovich`s Chelsea early days. His relationship with Chelsea soured however as he eventually sued the club for wrongful dismissal.