Brad Guzan Super Save Against QPR, That Helped Us Stay Up
Everyone remembers how Christian Benteke contributed to our premiership survival, but Brad Guzan made some super saves here is one fine example against QPR.
Brad Guzan Transfer Rumours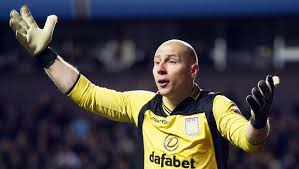 Brad Guzan was born 9th September , 1984 in Evergreen Park , an international footballer who has represented American many times Brad Guzan has been a key player for Aston Villa for many seasons.
Trained in South Carolina, Guzan joined the club of Major League Soccer, Chicago Fire in 2004 . But struggles to gain a place in the first team and plays in the reserve`s.
However Guzan was spotted during a match with Chivas reserves ,and is signed by Chivas in the 2005 season he moved as a starter in his first season and played 24 games his time at the club resulted in Chivas winning the Western Conference in 2007 .
During the summer transfer window of 2008 , Brad is transferred to Aston Villa football club for £600,000. In his first season Brad Guzan played every game of FA Cup and League Cup (he reached the final in particular 2010), and some games in the Europa League. His path to becoming a first team regular was blocked by fellow American goalkeeper, the aging Brad Friedel .
In 2010 in search for more playing time, he decides to go on loan at Hull City in Championship for a period of two months, in which he played continually for Hull.
On his return to Aston Villa Brad Guzan again found his number of starts limited, this time blocked by Shay Given. He found himself release by the club only to make a return in 2012 and started to regularly in the first team.
Since Tim Sherwood has taken over at Aston Villa Brad Guzan continued to be the number one selection, although a number of mistakes has shaken Tim Sherwood`s confidence and caused rumour's of a possible transfer away from the club. With the benching during the last two weeks and reports of Tim Sherwood looking for a new goalkeeper could indicate time is short for Brad Guzan at Aston Villa.
Brad Guzan has been a good servant for Aston Villa and will surely have a number of suitors, the future of Brad Guzan will depend on a number of factors, including who will take over Aston Villa and the transfer funds available to Tim Sherwood.